Podcast: Play in new window | Download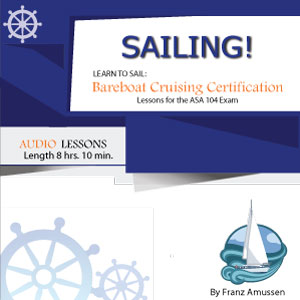 If you are interested in learning to sail I just finished the 8 hour and 10 min. series for helping students prepare for the written portion of the ASA 104 exam.
If you are interested in writing a review and Amazon and iTunes for my audio lessons for the Bareboat Cruising Certification ASA 104 please contact me by using the contact form.
This is the second episode of what is most likely to become a multiple part episode with Paul and Sheryl Shard.
Bestselling authors and award-winning filmmakers, Paul and Sheryl Shard, are known to worldwide viewing audiences as the fun-loving and adventurous hosts of the Distant Shores sailing adventure TV series which airs across Canada on Cottage Life Channel as well as in the USA on AWE TV.
In this episode we talk about anchoring and different anchors. We discuss the costs of cruising and the ease in which you can make new acquaintances while cruising. After continuing down several other topics of interest the Shards give me an update on their cruising plans for the next year.
I got an e-mail from Jim you can read it below but check out the links that he gave me the one from http://earth.nullschool.net/ is particularly interesting it shows the wind patterns for the entire globe at the current time
————–
Ahoy Franz, I am wondering if you've sailed to Portifino or the Amalfi coast?
I just watched a 2014 movie called "The Trip To Italy" and was transported there when I saw scenes with the beautiful classic sailing yacht Patience, and I wondered if you did much sailing there?
Here is a link to a scene showing the boat if you like classic sailboats as I know you do given you sail one yourself.
While Im at it, here is a link to a resource many of your listeners and yourself may find useful and if not useful, then surely fascinating.
You click on the word "earth" to bring up the Menu, where you can change the settings from MPH to knots etc.
You can spin the earth ,zoom in/out with your mouse-wheel or clicking , select a point and see the windspeed there etc
I find it interesting to observe wind/wave and current patterns over time, and I hope you and your listeners will benefit from it too.
Thanks
Jim