Podcast: Play in new window | Download
Subscribe: iTunes | Android | RSS
Sailing in the Mediterranean Episode 118 Bareboat Greece with Tom Morley pt 2
This is the second of two interviews with Tom Morley. Tom is one of my listeners who took a bareboat charter in the Aegean islands of Greece in 2013.
To document and share this trip he put together a YouTube video with a lot of photographs.
Here's a link to that YouTube video
https://www.youtube.com/watch?v=LGyzOZfKp7g
Be sure to sign for the newsletter if you want to receive 8 free audio lessons on learning to sail.
If you have ideas for future podcasts or comments please drop me a note! and PLEASE rate my podcast in iTunes and perhaps write a note. Here is the link https://itunes.apple.com/us/podcast/sailing-in-the-mediterranean/id566678892?mt=2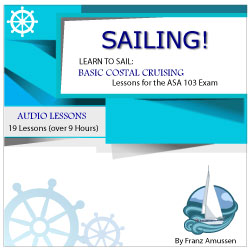 Sailing! Learn to Sail: Basic Coastal Cruising; Lessons for the ASA 103 Exam over 9 hours of Audio Instruction to help you get ready to go sailing and also to prepare you for the written portion of the ASA 103 written exam.
If you're interested in my sailing instructional audio series here are the links:
Sailing! Learn to Sail: Basic Keelboat Certification Lessons for the ASA 101 Exam
https://gumroad.com/l/Eiig
Sailing! Learn to Sail: Basic Coastal Cruising; Lessons for the ASA 103 Exam
https://gumroad.com/l/PvOYK
Sailing! Learn To Sail: Bareboat Cruising Certification Lessons for the ASA 104 Exam
https://gumroad.com/l/bwXh
Sailing in the Mediterranean Website
http://www.medsailor.com
If you would like to be a guest or have suggestions for future episodes or if you would like Franz to be a speaker at your Sailing Club or fundraiser please feel free to contact me.
©2016 Franz Amussen all rights reserved