Sailing Yacht Charter
The following is taken from with permission from the book:
Bareboat Yacht Chartering in Turkey 2012
By Franz Amussen
©2012 Franz Amussen All Rights Reserved
None of this material may be reproduced or distributed without the permission of the author
Yacht Chartering
This post is taken from my book on yacht chartering in Turkey which is intended to be a source of information for those who wish to charter yachts and also a bit about chartering yachts in Turkey:
My introduction to charter sailing came in the early 1980s when I had the opportunity to join a friend on a Peterson 44 which was located on the island of Raiatéa and the French Polynesian islands.
The company we charter from was called South Pacific yacht charters and was founded by Lynn leisure who lived strangely enough in northern Utah. As I understand the story Lynn had served the Mormon mission in French Polynesia and seeing an opportunity after his mission he returned to the country and established if not the first, one of the first yacht charter companies. Later on Lynn started a yacht charter company in Tonga and afterwards he was considering starting a yacht charter company in Fiji but before that occurred the global yacht charter company The Moorings bought him out and Lynn retired to northern Utah. Lynn may have taken his business models from others who pioneered the yacht charter business but I'm not certain of this. Regardless of whether he was the first or not the model that was developed seems to be fairly consistent to the model used today.
The reason I had this opportunity was because a friend of mine was building a house for Lynn Leisure in northern Utah. Lynn offered two weeks on one of his boats as partial payment for some of the services conducted in the construction of the house. My friend been an adventurous traveler but at that time not a sailor invited me to join him and his wife aboard the boat and teach him how to sail. It was my wife's first experience sailing and has served as a foundation for me building my own boat and becoming a cruising sailor. We had a wonderful time my wife had a wonderful time it is one of our favorite memories.
Warning!!! Yacht chartering is a gateway drug to yacht ownership.
In the 1980s and 1990s there was a slow and gradual increase in yachts for charter at various locations around the world. Beginning in the early 2000 as the Americans and the Irish were building houses and bidding up real estate prices, as the British and other Northern Europeans suddenly discovered Portugal and Spain and started buying flats along the coast and Spain entered a boom building cycle, as the Greeks borrowed money to hire more bureaucrats, as the Icelandic people suddenly became bankers, and as the world went crazy with easy, cheap credit.  The yacht charter business participated in this frenzy and fleets of yacht charter and yacht flotilla companies exploded.  Along with this many new yacht charter companies were started. This was fueled by easy money.
My prediction for the future is it will be difficult for yacht charter companies to grow their fleets because I assume credit institutions are going to be much more selective on who they are willing to loan money to for the purchase of a vessel to be placed into yacht charter management. I further predict  that the fleets of the yacht charter companies average age will increase because of the difficulty in finding credit to place new vessels into the yacht charter fleets.
However this point in time for the bareboat yacht charter company and yacht charterer there is an abundance of shiny new vessels to choose from at fair prices.
Yacht charter company business model
Most yacht charter companies serve as management companies, a few may own some of their boats but most of the boats which are chartered by yacht charter companies are owned by individuals who hope that by chartering out their boat they will be able to buy a boat that they could not afford without the charter revenues.  After the initial charter term these boats are usually released to the owners. In the past most charter contracts were not renewed after the initial contract because charter companies like to maintain a reasonably new fleet which require less ongoing maintenance. For reasons outlined above, in my opinion this will probably change in the future and I expect new contracts will be offered to boat owners beyond the initial charter term.
The yacht charter company market and maintains the boats, conducts inventory on the boats welcomes, evaluates and educate the charterers and all other tasks in regards to the vessel. The owner of the vessel is responsible for the purchase of the boat and if he borrowed money for the boat then the debt service associated with the purchase of the boat. The yacht charter company and the vessel owner split the revenues of the charters. Different companies offer different splits. Yacht charter companies very rarely will make a guarantee as to revenues that the owner of the boat will receive, charter revenues are somewhat unpredictable. A charter company with a long history can point to averages but if they are a reputable firm no revenue guarantees would be made. A person who buys a yacht and puts it into charter service should not expect to make a profit. The best he should hope for is a few weeks per year on his boat to enjoy and that the boat does not deteriorate in value faster than the principle on the loan is paid off.  If the charter revenues from the boat do not cover the payments on a loan which is taken at purchased the boat the owner of the vessel will be expected to pony up any shortage of funds to make loan payments.
Some large multi-based charter companies such as the Moorings and Sunsail provide the owners of the yachts the opportunity to sail in different areas of the world where the companies have charter basis in similar boats as his or her time on the boat in exchange for the time allocated for the owner to be on his own boat This is one advantage of the larger yacht charter companies for owners of yachts. However the split in management fee for the large yacht organizations may not be as advantageous as a smaller ones.
There are few huge international yacht charter companies like Moorings and Sunsail but they're also a lot of mom-and-pop yacht charter companies, particularly in Turkey. It is a business that has relatively low barriers to entry. The advantage of using one of the larger international yacht charter companies is that they can probably put you in a boat in any popular sailing area in the world. They have large staffs and correspondingly large overheads and if compared to the smaller yacht charter companies their charter rates may be higher. The advantage of dealing with the smaller yacht charters is that they usually have very good specific knowledge of the charter area, they try to offer exceptional service because they have to compete with companies with much better financing and larger staffs finally they may provide a better value. The small charter does not have a large marketing budget therefore it may be more difficult to locate a smaller, local specialized charter organization.
When you are choosing the charter company it is a good idea to see if you can find referrals to the company you are considering. Most charter companies are willing to provide you with the names of previous charters if they have been permit given permission to do so by the previous charters.
The qualifications to charter a boat vary. Different companies have different regulations different countries have different rules. In Europe a license is required to operate a vessel, in the United States no licenses are required. For this reason if you are from the United States and intend on chartering a vessel in the country that requires a license you need to take some courses that give you some sort of certification for taking a charter. These courses are offered by various organizations and usually are fairly reasonably priced.  Check with your charter company to find out what is required before you arrive. If you do not have the qualifications necessary then the company may require that you hire a Captain. This could make the trip much expensive and more crowded with this additional body on board.
The charter company's incentive is for you to be able to charter boat and quite often charter companies will find a way to provide you with the qualifications necessary in order to charter their boat.
The process of chartering a boat
Begin early, the earlier the better if you don't you may find that the boat you want in the area that you want to sail may be booked up at the time you have available to travel. There are only a certain number of boats, they are chartered by the week and once that week is booked with a deposit it becomes unavailable. Certain periods of the year are extremely popular in different locations you may need to book a year in advance.
The process begins first with choosing a charter location that you wish to sail. Once this is done then you need to decide which charter operation you want to contract the boat with. Unless you have a specific company in mind you will probably be e-mailing  and corresponding extensively with several companies.
Once a decision is made and you made your flight arrangements the charter company may meet you at the airport and deliver you to the charter base this depends on the company you charter with. If they don't pick you up personally they will arrange transportation to the yacht charter base possibly for an additional fee.
Upon arriving at the charter base the following steps he for you take the boat out will occur.
Almost all charter companies have specific dates for the boats begin their charter and return their vessels. When you arrive at the charter base most likely there will be other new charters arriving to get on their boats at the same time.
When you bring your boat back you will be required to bring it back with a full tank of diesel. I learned this the hard way what I needed to get diesel one day and I had to wait for well over an hour because it happened to be the date that the charter fleet in the area were returning the boat. If you don't like to wait in line you may wish to be fuel the day before you are required to return the boat.
There will be an introductory meeting possibly with you and the other groups that are taking vessels. Items that will be covered in the initial meeting include
a chart review of the areas most likely to be visited with specific recommendations on anchorages restaurants and fuel services
what to do you have problems
safety procedures
medical emergency procedures
how to respond if you have mechanical issues
the current weather forecast
sources of information or future weather forecasts
radio contact information and procedures
phone contact information
electronic navigation systems on board
if it is a flotilla then you will be introduced to the leaders of the flotilla and the procedures of the flotilla
an inventory list
a question and answer period
After the initial meeting you will conduct an inventory of all the equipment, bedding, towels, books and charts, and any other items on the boat. It is extremely important that you spend time with this, first of all it makes you familiar with everything on the boat and its location. But from the charter companies perspective it provides a basis for additional charges you will be required to pay if you destroy or lose any of these items. When you return from your week of adventure this inventory will be done again in any items that are missing will be needed to be replaced and you will be charged accordingly. Quite often on the inventory list that shows the cost of each individual item. The costs you will note are not cheap and they include the cost of the item and the costs Maintaining an inventory and overhead.
After the inventory is done a representative of the charter company will meet with you on the boat and go over the specific systems and operations this will this will probably include:
How to the jib furling system.
How to operate the main sail furling system if there is one on the boat.
How to operate the bow thruster.
How to of operate the bow thruster if there is one.
How to operate the stove and refrigerator.
How to operate the dinghy and the dinghy motor.
How to operate the windless and anchor.
And most important how to operate the head and waste disposal facilities.
And any other specific systems on the boat.
He will answer any questions you may have regarding the boat.
At this point in time the representative the charter company will probably take you out with the boat and familiarize you with the boat under way and observed your boat handling abilities. If he or she is uncomfortable or abilities they may require that you take a captain.
At this point in time you will need to be there make a trip to the grocery store and purchase your food bring it back to go boat and stow it or if you have elected to have the charter company provide you with food they will provide you with the food you have selected stow it.
At this point in time it is probably late in the afternoon and you'll be anxious to get out of the Marina and get to an anchorage for your first night on board.
This anchorage will probably be full of other charter is that it just left that day if you have the time you may choose to move to an anchorage a little further away which might be a little less crowded.
Anchoring

Before I became a cruising sailor I had had years of club racing experience and  I knew how to sail, however anchoring was a side thought and not something  that racing sailor really ever learn.  My observation tend to confirm that most charter sailors fall into the club racing category and usually have little knowledge on safe anchoring technique but may be good sailors otherwise.To a racer an anchor is just wasted weight and they try to get by with as small an anchor as possible.  On the 40' racing boat I crewed on we had a 20 lb danforth  anchor with about 6' of chain and 100' nylon anchor line.  This is totally inadequate for a cruising or charter boat.In my cruising learning years I provided much entertainment to those already at anchor as I floundered trying to find a place to anchor where I wouldn't swing into other boats already at anchor, or setting my anchor and plowed furrows in the seabed,  and not getting the anchor to hold. Today I provide much less entertainment but still provide a little along the way, we are all always learning.  Now for the most part my evening entertainment when safely anchored is watching novices anchor.  However the entertainment value rapidly diminishes when the wind builds usually at night and it is pitch black and  I am required to get up and protect  my boat as these beginners try to re-anchor  usually on top of my secure anchor which would put me and my boat in danger should they drag their anchor across my secure anchor rode and dislodge my anchor.This is one of many similar anecdotes of my experience with beginning charter sailors.I was in Croatia  securely anchored in Zaton early in the afternoon.  Zaton is the closest anchorage to the Charter base of ACI Marina Dubrovnik.  As such it is quite often the first overnight anchorage for many charters and is usually very crowded especially on the days the fleets turn over to the new charterers.   These innocents usually blithely motor down from the marina turn right into the protected waters around Zaton with its notoriously poor holding conditions. Then drop their  anchor and a minimal  amount of chain and start partying.   I almost never see a new charter set and test his anchor.So this evening  the bay was full and crowded.  Zaton is difficult to get a good anchor set in because it is patchy weed and  little sand and no mud.  That night the bora started to blow and the boats around me  started to drag.  At this time I was swinging through 110 degree arcs and it was impossible to know where my anchor was laying but I was secure because I took precautions and had double anchored and took the time to set my anchors, additionally I had swam out to my anchors to visually verify that they were well dug in sand and not weed.  During the re-anchoring exercise in the night several boats during the night tried to drop close to me and I yelled at them and waved them off.  They thought that I was an ugly American but I was sailing shorthanded with one other person on my boat and they had large crews, I was secure and they were threatening me by trying to anchor close to me.  Try as they might not a single boat that night was able to successfully reset his anchor. I head one young party animal yell  "Yankee go Home" as they ran back to ACI Marina for safety.  In the morning I was the only boat still at anchor the entire bay composed mostly of a charter fleet boats had dragged and gone.Croatia can be very deceptive, during the day, often there is little wind  and there is an assumption that it will be calm at night.  This is a big mistake.  The mountains around Dubrovnik and most of the Croatian coast  rise sharply from the seas and at night quite often katabolic winds start to blow.  And then often die to nothing  by 7am and again there may be almost no wind during the day. These katabolic winds are called "Boras" in Croatia.  I learned this lessons quickly myself the first night I anchored in Cavtat upon arriving in Croatia from Italy  and now I routinely drop two anchors in line and test them heavily before feeling only slightly at ease.  In my many years of  experience sailing throughout the Mediterranean except for the Aeolian Islands at certain times, Croatia  is where I feel the least comfortable anchoring  I often  need to spend the night in the cockpit as the Katabolic wind blow at nightHow I learned my double anchoring technique.My family and I were working our way through Greece.  After passing through the Corinth canal we spent a night at the Island of Aegina.  The next day we were headed to Laviron on the mainland to restock on fuel food and water.  We left Aegina in calm weather  and motored toward CapeSojunion.

CapeSojunion on a calm day, Photo by Franz AmussenAs the day went on the wind started to build and I was able to sail.  The wind clocked around to the North west and soon was blowing directly from forward and at near gale force.  I dropped sail and motored.  We were close to the mainland so the water was flat but the wind kept building and we were only very slowly making way against it.  We were able to make it to CapeSojunion but the day was late so we decided to anchor as close  to the shore as possible to reduce fetch.  The wind continued to build and now was blowing at full gale force.  The pilot called for this area to be of only fair to poor holding but we could see patches of sand among the weeds when we dropped anchor.  We dropped in about 35' of water and let out plenty of scope.  The water was crystal clear and after setting anchor I swam out to inspect my anchor.  The tip of the CQR was slightly pointed into sand and the chain was acting as a good shock absorber lifting and lowering with the wind gusts.  Of course I had put a snubber on the chain so the stress of the chain and anchor was on my bits and not the windlass.  I was not fully comfortable with my situation but this is probably the best I could hope for in these conditions.  If I did drag I had no hazards to my stern it was just open sea with the next stop the PeloponnesePeninsula.That night I left my GPS on and zoomed in as tight as possible on my position over time the track on the GPS resembled a diagram similar to the one drawn below.
Initial Anchoring Track
I went to bed with the GPS continuously tracking my station a couple times throughout the night I got up to look at the GPS and the boat seemed to stay within the parameters of the initial track above.
In the morning when I looked at the GPS I saw a diagram similar to the following.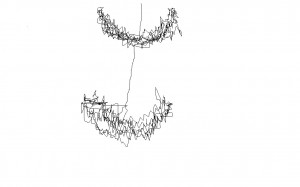 Anchor track on GPS in morning
Clearly I had dragged during the night at some point in time. Fortunately for me the anchor was able to find a new bite on the bottom.
While we sat out this Meltimi for 3 days we had the company of another boat anchored about 50 yards to our port. This boat had not budged the crew did not seem to be concerned about the anchor. I was curious to see what type of anchor this boat was using. So during the day I put on my mask and snorkel, jumped in the water and swam over to examine the anchor and anchoring chain. To my surprise I noticed that there was not that much scope let out on the anchor chain and on the bottom was a CQR  anchor but what was different was that tied onto the main anchor was a short line of about 10 -15 feet and onto this line was tied to a very small Danforth type of anchor. As I observed the anchors take up the past I noticed that the CQ are anchor was just sitting on the bottom with the fluke of the anchor only penetrating the sand by a small amount yet the Danforth anchor was fully buried and had a pure horizontal pull and  correspondingly very strong holding power.
Clearly this boat had a better idea of how to anchor in these conditions and I did and I learned from their example. From there on when I am concerned about bottom or wind conditions I use this technique. I had been carrying around a light aluminum Fortress anchor two uses as a stern anchor  for years and had rarely used it. I now use it regularly as my second anchor which is tied to my 35 pound CQR  anchor with about 4 meters of line. When retrieving the anchor I retrieved the anchor in the normal way bringing the CQR up and stowed as normal and then with the boat hook reached down grab the line and just haul up the light to anchor by hand.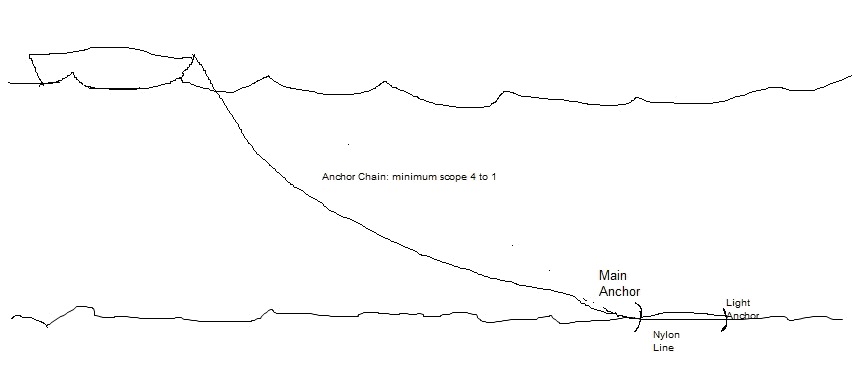 I had read about double anchoring however most of the techniques that I had read discussed double anchoring as putting two separate anchors out on separate rodes at about a 45° angle and this just is too much work .  To deploy in this matter would be a headache. I have used a double anchor at  45° very few times and usually only when I'm going to be leaving the boat for an extended period of time. A problem with deploying double anchors on separate roads and a 45° angle is that your swing is significantly reduced and if all the other boat anchored in the area do not have similarly deployed anchors at 45° your swing will not match theirs  is and it could place yourself in a position to be colliding with other boats which are swinging free. I much prefer the double anchoring technique with one anchor in line with another.
On Dragging Anchor and Bad Weather
I had picked up my friends Norman Jewision and Lyn Saint David in Porta Rossa Sicily.  Norman  is a well known film Producer and Director with  such films as Fiddler on the Roof, Moonstruck, The Hurricane and the list goes on and on.  He had just been honored at the Taormina Film festival and received the Diamond Award for his film Jesus Christ Super Star.  I had met Norman a couple years earlier skiing at Deer ValleyUtah he became a good acquaintance.  At 73 I was amazed at how well he skied and even more important he is a great story teller.  I like to be around good story tellers and Norman was a small boat sailor also so I invited him to join me for a week.  He accepted because it just happened to coincide with a trip that was already planned to Sicily to attend the Taormina Film Festival. I was excited to have him on board    I was amazed that a man of his standing would slum with me on my little boat for a week.  I wanted to give them a great experience.
When they arrived at the port Norman was excited but I could see the concern in Lynn's eyes as she looked at my small boat. I could imagine what she was thinking (the three of us on that!), but she was open for adventure so we got their gear stowed and cast off to spend a week sailing through the Aeolian Islands.
In keeping with my short experience in Sicily there was not a whiff of wind and we motored north from Porta Rosa to the Island of Vulcano, the closest Island  to us in the chain of islands.
I had read the pilot carefully and the anchorages on Vulcano were described as only suitable for settled weather the holding was not consistent and only good in patches.  The weather forecast was for fair conditions and I was complacent because I had not experienced any wind at all in the Aeolians, so far, so I decided to take a chance and anchored in about 6 meters of water close to the hot mud baths. We went ashore for dinner and watched the sun set.  Arriving back at the boat Norman and Lynn took the only cabin suitable for two people on my boat, the forward cabin.
We went to bed in flat calm conditions. A couple hours later the wind started to blow from our exposed direction and onshore so should we drag we would drag onshore.  It was pitch black outside and there were some hazards to avoid should we attempt to leave.  Quickly the anchorage became very uncomfortable.  Norman and Lynn were being bounced around in the forward cabin.  There were probably about 5 other boats in the anchorage around us.  I decided that I better keep an anchor watch so I moved to the cockpit for the night to keep an anchor watch.  The wind and waves continued to build but our anchor held.  We were uncomfortable but not yet in danger as long as the anchor held.  I thought over my options and came up with a plan.
 If the anchor held do nothing just keep a watch.
If the anchor started to drag start the engine and motor forward slowly to take the stress off the anchor and stay approximately in the same location
If the conditions deteriorated further and the above options failed have a route planned to leave.  To this end I planned a route  out of the anchorage to safety in the GPS and had it ready to go should the need arise.
If the GPS quit have some bearings and lay lines already to use to pilot out of the anchorage. (not as safe as the GPS  because of the decline in accuracy and very subject to mistakes)
I prepared as best I could and kept watch in the cockpit. There was a hard chine steel sail boat to my starboard. This was the boat that I was taking a bearing on to see if I was dragging.  The skipper of that boat was also in the cockpit keeping and anchor watch as I assume all skippers were in the anchorage that night.  About 3AM the skipper of the steel boat went forward and released a lot more length of anchor line.  (At the time I thought this was probably a good idea because general anchoring theory holds that the more chain on the bottom the more horizontal pull and the greater holding power of the anchor)  I watched as the boat took up the new anchor chain and slid down wind.  When it arrived at the end on the new anchor chain it jerked to a stop and then ever so slowly started to drag down wind.  To this day I don't know why the skipper did not start his engine and stop the dragging but he didn't.  I watch in slow motion as the boat dragged to the shore and beached.
About  5am the wind just quit and I finally went below to try and get some sleep.
In the morning now the weather was calm I examined the boat ashore.  Fortunately for him the beach was gently rising and of soft mud/sand and only a few rocks mixed in.  The boat was aground but undamaged except for a few scratches in the paint.  Had the boat been a typical eggs shell thin hull of most charter boats it would probably been a total insurance write off, but this big steel  boat could easily handle this abuse.  He hired a couple larger boats that dragged him into deep water and he was out his pride and a few euro's  for the experience.
Lessons learned:
When your anchor is pulling and under stress and you wish to let out more anchor chain LET THE ANCHOR CHAIN OUT SLOWLY SO THE  BOAT DOES NOT BUILD  MOMENTUM WHICH CAN DISLODGE  A SET ANCHOR.
When at anchor always have an escape route planned in advance because someday  you will need to use it.
Don't rely on weather forecasts to be accurate
A few years later I was anchored at WallBay near Gocek Turkey.  I was the first into the anchorage and was able to take the time to lay a double anchor forward and back down near to shore and tie two stern lines to shore.  The weather forecast was calling for high winds so I was being careful with my anchor.  As it was it still took  three attempts to get the anchors to hold and the holding in this anchorage is sketchy.  But after the third try I was feeling somewhat comfortable.  Then arrived a large Turkish Gullet who proceeds to  take  up the full bay with it dropping its anchor directly at one end and letting out anchor line all across the bay with two long stern lines ashore he was directly in front of me and cutting off my escape route if I needed to use it.  Also I thought that my anchor was directly under his boat.  I was angry but not much I could do.  I decided to move to a restaurant at the bay that had a dock I could tie up  and plan on eating at the restaurant.  In retrieving the anchor it turned out that my anchor was not directly under him but just to his port side, regardless it could have been difficult and dangerous to retrieve in the dark in a high wind condition.  After I moved my anxiety was relieved and I enjoyed good meal with the memorable experience of a large tarantula wandering on the table during the meal.
Late that night the wind started building and building to gale force.  The gullets anchor held fine but the dock filled up quickly with other sailors who had dragged and were trying to find their way in to a safe location in the dark.  We of course were up most of the night helping other sailors tie up but we didn't need to worry about my boat.
It is sometimes better to just move if you are not comfortable.
Anchor Gear
 Having the proper gear to sustain you in most conditions is essential.
Charter boats have adequate anchoring gear but it probably won't match my standard gear up my small 8 ton 28' Bristol Channel Cutter:
Primary anchor 35 lb CQR with 250 ft of 5/16 Hi Test Galvanized Chain
Spare anchor 40 lb Danforth with a rode of 12 ft. of 3/8 BBB Galvanized Chain and 300 ft of 5/8 braded nylon line.
Stern Anchor which is also used an extra forward anchor when needed 10 lb Aluminum Light Aluminum Fortress Anchor model  FS-16
Stern Line of 500' of ½" 3 strand nylon
Storm Anchor (never used and hope to never need it) three part  65 lb fisherman's anchor.
I have of Maxwell electric windlass to retrieve my anchor this is a huge improvement over my old hand operated windlass which I sailed with for about eight years.
Almost all boats now have electric windlasses. Of course with an electric windlass it is easy to retrieve and anchor and reset so I am surprised at how many sailors don't want to simply push a button and all retrieve their anchors when they do not properly set. No matter how experienced a sailor is there are times when you just drop in the wrong place and you need to pull up the anchor and try again.
On dropping and setting your anchor
There may be different opinions but this is the way I have found this to be the most effective method for dropping and setting my anchor.
If I will be swinging free and it is in normal conditions I will stop the boat then reverse with the windlass lower the anchor to the bottom. This differs significantly from most boats I see that come in to anchor. Most boats will go forward and when ready disengage the clutch on the windlass in the chain runs out quickly dropping the anchor and a pile of chain on top of it. Using my technique I drop the anchor to where the anchor is just sitting on the bottom once the anchors on the bottom I put my boat in reverse to create a slight movement of the boat astern and let out the chain as I move back. Once I have a 4 to 1 or 5 to 1 scope of chain out (by scope I mean for example of 4 to 1 scope would mean for everyone foot of depth I put 4 feet of chain out) I stop and just wait and let the anchor and chain settle. After the chain in anchor settled 2 to 3 minutes I will put my engine in slow reverse at the lowest rpm setting possible. If all goes well the chain will stretch and the anchor will bite. At this point I increase the rpm of the engine in reverse and watch across a bearing to see if I'm still holding. If I'm still holding at this point in time I will gradually increase the reverse rpm to full throttle. Of course the boat will come back some because it is stretching its anchor chain off the bottom but then if I'm set properly the boat will stop moving in reverse and just stay in one position. If all goes well then I'm happy for the night. If I start to drag with the boat in full rpm reverse then I will stop the engine at this point in time the boat will spring forward and I will let the boat settle down and after the boat has swung to its normal position with the given breeze at the Anchorage I will let out some more scope on the chain if there is room at the Anchorage and repeat the process with more chain on the bottom. If I continue to drag I will simply pull up the anchor and chain and try again somewhere else. The holding in most anchorages is not uniform there will be patches of good holding and bad holding. Always try to avoid dropping in grass or weeds and try to find a clear sand or mud to drop your anchor.
What I see most charters do is disengage the windlass clutch, drop a pile of chain on top of the anchor and then immediately put the engine in full reverse. In these instances the anchor rarely bites the bottom instead they tend to plow furrows in the seabed over and over again.
When I am stern tying to the shore I pick my position carefully trying to avoid the anchors in line of boats already anchored. Again as described above I will lower my anchored to the bottom and then back down hopefully in my intended direction toward shore letting my chain out as I go (my boat is a full keel boat and extremely difficult to back with predictable results. Fortunately for charter's most charter boats are  fin keel boats and back up extremely easily). If all goes well I will be letting my chain out with
usually much more scope than the 4 to 1 or 5 to 1 ratio that I use when swinging free.
"See Dream" at anchor near Gocek Turkey with stern line out,  Still plenty of room for other boats to drop the hook and take a stern line ashore.  Photo by Franz Amussen
When I am stretched and a little further out than where I will end up I will take the line ashore either by swimmer or by dinghy find a suitable spot onshore to tie and then tighten up the line to the boat. During this time the boat has been in idle reverse keeping stress on the anchor and rode. I will then continue to let out chain and take up the stern line keeping myself away from any other boats already anchor. Then I will let the boat settle down for a few minutes and then set the anchor as described above putting boat in full reverse if the anchor holds I am happy if not I will do this procedure over again. I have found is better to take the time to be properly anchored during the day when you can see and have the time than to drag anchor in the middle of the night and not be able to see what you're doing. There have been many many many times that I needed to reset my anchor there is no shame in resetting your anchor.
Once I am settled in I almost always put on my mask and snorkel and swim out and examine where my anchor lies in relation to other boats already anchored. If I have crossed lines I will usually just re-anchor. But sometimes I will talk to the skipper of the boat that I've crossed and ask him if he is okay being crossed. Before I will be comfortable with this however I will examine his anchor and satisfy myself to his anchor set.  If I spend the night with crossed anchor lines it will be up to me to move my boat at the whim of the skipper of the boat whom I have crossed anchors with. He may wish to leave earlier in the morning than I do, but I will need to accommodate him or her.
Today almost all boats have chart navigation which is tied in with extremely accurate GPS instruments. We have come to rely on this form of navigation with its pinpoint accuracy. The prudence sailor however will not lose his ability to navigate by dead reckoning and should always have backup paper charts and pilots on board. Remember you're only a diode away from disaster if you rely exclusively on electronics.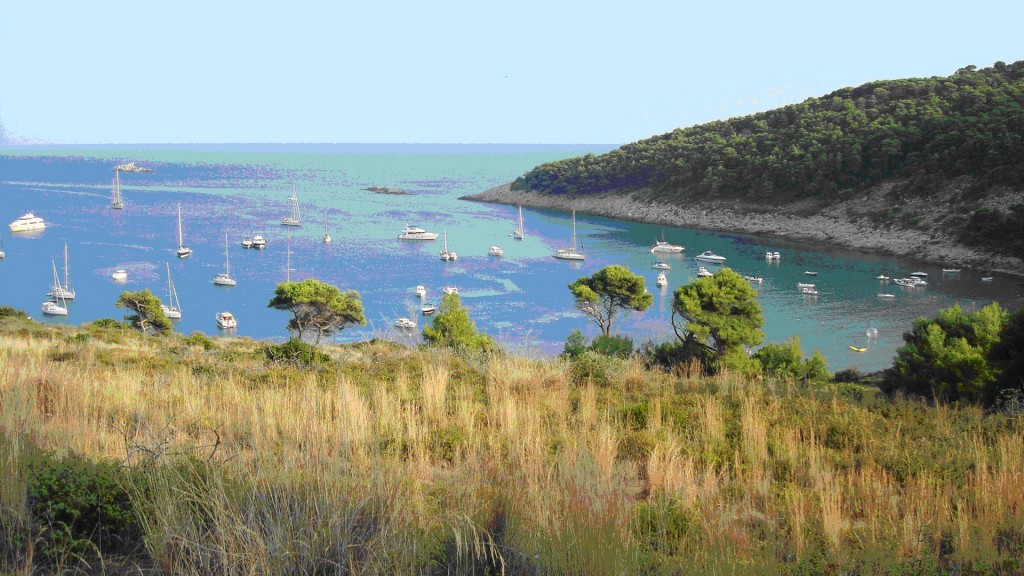 Anchorages in the Mediterranean can get very crowded
Anchor Ethics:
First to arrive to and anchorage and drop his anchor has superior rights to those that come later.  It is up to other boats not to anchor in a way that infringes on the first boat to anchor.  It is fist come, first rights. I am constantly amazed at the sailors that fail to observe this simple courtesy.
My friends John Quinn and his wife Roxanne were sailing with me one summer in Turkey. We arrived at an Anchorage at Cokertme in the morning and upon arriving there were no boats anchored anywhere in the bay.  Looking at the pilot I chose a suitable location to anchor and took a line to shore to hold my stern from swinging.
Throughout the day other boats came in an evenly spaced themselves around the area with lines ashore very evenly and professionally posing no threat to any of the other boats already anchored.  At the end of the day there would still be room for several  boats to drop anchor and swing free a little farther out. Late in the afternoon a larger sailboat arrived and instead of anchoring and swinging free it proceeded to try to drop the anchor and back down between me and a large French sail boat which was anchored to my port. To my eyes there was not enough room the normal swing of the boats even with the stern line attached would cause this boat to pose a threat to both my boat in the French boat anchored to my port I tried to wave off the skipper of this boat and she ignored me.  This turned out to be my entertainment for the evening.
There was a slight breeze blowing across my deck from starboard to port. As I mentioned the large French sailboat was to my port. The woman acting as skipper on the boat which was attempting to anchor between me and the French boat dropped her anchor and proceeded to back between us. As her anchor bit the boat stopped and off the stern jumped a poor soul who took the stern line and proceeded to try to drag the stern line to shore by swimming however they had not properly prepared the stern line and it was a tangled rats nest.  On board so as he tried to swim they tried to untangle the stern line but were not the boat was dead in the water and therefore had no steerage.  The wind gradually pushed the boat down on the French boat. The French crew was watching this woman and unlike us they were not enjoying the show as much because they were being encroached upon. I'm pretty sure the crew on this boat was a professional crew because immediately upon seeing this boat bear down on them they went below and got a couple large round fenders and put over the side. The woman seeing that she was not going to be able to avoid hitting this boat immediately engage the engine and motor forward dragging the poor swimmer behind her.   Instead of taking the poor swimmer onto the boat and take the time to  get the line untangled and ready she immediately  began backing down again and the swimmer was forced to swim back trying to drag the rats nest of line behind him.  Of course he couldn't swim fast enough and she had to stop, and again and again she swung down on the French boat. So again she motored forward of course this time they had a little more of the rats nest untangled so there was a little more line in the water but eventually the swimmer again was dragged forward and she repeated the process a third and fourth time after the fourth attempt as she was backing down on the poor swimmer in the water couldn't swim fast enough and the stern line became wrapped around the prop and she was dead in the water there was nothing she could do.
She eventually got in her dinghy, came over to me and told her she had lost her engine and could not raise her anchor.  She was an American woman with an attitude. Normally I would have volunteered to help but seeing that she was not in any danger and not liking her arrogance I just kept my peace and left her to her and her crew to its own devices.
At this point in time the French boat now being  in peril was forced to pull up its anchor and move elsewhere and the American woman spent the night swinging free as she should have to begin with. However had she chose to swing free initially she would have anchored further out where she did not infringe on those already at anchor.
The following morning a mechanic from one of the marinas arrived to help her out, when I left she was still at anchor.
With the rapid expansion of charter and flotilla fleets it is very rare in the Mediterranean not to have crowded anchorages. Where possible if you arrived early to an anchorage that is empty please anchor with a line ashore, many more boats can use an anchorage if this technique is employed, other boats will probably follow suit. At the end of the day there will usually be some space available for late comers to anchor and swing free.
Don't assume that a boat already at anchor knows anything more about the anchorage than you do. Examine the charts read the pilots and determine on your own where a good anchoring location would be. Try to give plenty of room to boats already anchored.
Many times I will arrive early to an anchorage that is very large and there are many many possible anchorage locations within the anchorage area. Instead of picking a spot away from me it's inevitable that the next boat that arrives at the anchorage tries to anchor near me. They are just counting on my knowledge which is sort of like being the greater fool than I. (honestly folks I am not that loveable)